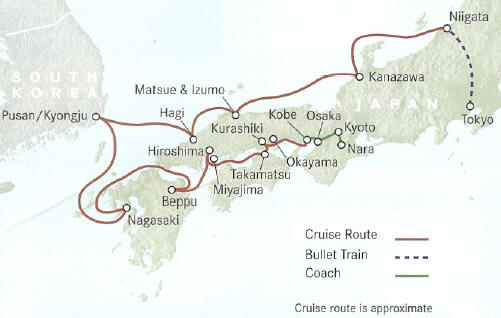 Japan Unveiled, Cruise 60b Land-Tour Before Osaka to Niigata or Cruise 61b Land Tour After Niigata to Kobe Cruise

17 DAYS/16 NIGHTS
DAYS 1 & 2 OSAKA/KYOTO Arrive in Osaka, and transfer to Kyoto. Check into the deluxe Kyoto Hotel Okura.
DAY 3 KYOTO Spend the day exploring what the Japanese call Nihon no Furasato, meaning "The Heart of Japan." The capital of Japan for more than 11 centuries, it remains a living museum of Japan's artistic and cultural heritage. Visit Kiyomizu Temple, dedicated to the 11-faced Buddhist deity, Kannon. Built on stilts, this UNESCO World Heritage Site offers an outstanding view of the city. Stone steps lead down to the Otowa no taki (Sound of Feathers) Waterfall. Pilgrims often drink the water which is said to cure all illnesses. BLD
DAY 4 SIGHTSEEING IN KYOTO The Ryoanji (Peaceful Dragon) Temple, founded in 1450 is world famous for its stone Zen garden. The Kinkakuji (Golden Pavilion) is named for the gold leaf on Japanese lacquer that covers the second and third floors. Kinkakuji functions as a Zen shariden, that is, it houses sacred relics of Buddha. Nijo Castle has thick outer walls, a moat, hidden rooms where the shogun's samurai could observe visitors, and corridors constructed with "nightingale floors" that squeak to warn of anyone approaching. BL
DAY 5 SIGHTSEEING IN NARA/KOBE Todaiji Temple is famous for its mighty bronze Buddha, the Daibutsu - the largest bronze statue in the world. The seated giant weighs 550 tons and incorporates 290 pounds of gold. A huge pillar to the right of the statue is thought to open the path of enlightenment to those who can crawl through the hole in its base. Horyuji Temple, founded in 607, is the oldest intact temple complex in Japan, and houses the world's oldest wooden buildings. This UNESCO World Heritage Site holds more than 2,300 items considered of historical importance, including a vast collection of Buddhist art. Transfer to Kobe and check into your hotel, the deluxe Hotel Okura Kobe. BL
DAY 6 KOBE The morning is at your leisure in Kobe. Enjoy an afternoon tour of Himeji Castle and embark the Spirit of Oceanus in the late afternoon. BD
DAYS 7-17 CRUISE FROM KOBE TO NIIGATA/TOKYO For complete cruise details, see Japan Unveiled 60a. (Extended Stay available on these itineraries)
Request: Cruise 60a or Cruise 61a Booking/Availability.