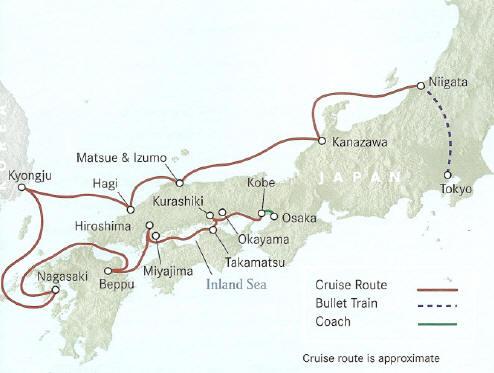 Cruise 60a Kobe to Niigata or Cruise 61a Niigata to Kobe

14 DAYS / 13 NIGHTS

DAY 1 DEPART FOR JAPAN

DAY 2 ARRIVE IN JAPAN Transfer from Osaka airport to Kobe where you'll spend the night at the Hotel Okura Kobe.

DAY 3 KOBE Enjoy historic attractions of this port city, one of the first to begin accepting foreign traders following Japan's two and a half centuries of isolation. The highlight of your visit: a trip to spectacular white Himeji Castle. Board the Spirit of Oceanus, and sail in the early evening. BD

DAY 4 OKAYAMA / KURASHIKI Tour beautiful Korakuen Garden, one of Japan's three most famous. In the town of Kurashiki, stroll the charming lanes along canals crisscrossed by humpbacked stone bridges and bordered by willow trees. Also visit the Ohara Museum, which hosts an eclectic mix of classical European, Chinese, and Japanese folk-art, and Ohashi House, a former merchant's home. BLD

DAY 5 TAKAMATSU/ CRUISING THE INLAND SEA Ritsurin Garden was designed at the bequest of an early 17th century feudal lord, who envisioned a fantastic garden set against the beautiful backdrop of Mt. Shiun. Spend the afternoon cruising the Inland Sea. Designated a national park, the Inland Sea is an area of great natural beauty, its emerald green waters dotted with thousands of islands. BLD

DAY 6 MIYAJIMA / HIROSHIMA Itsukushima is one of the most important Shinto shrines in Japan. View the famous red torii gates, tour the shrine with a Shinto priest and enjoy a performance by the priests. In Hiroshima, a city now devoted to peace, tour the Peace Memorial Park, Atomic Bomb Dome, and Peace Memorial Museum. BLD

DAY 7 BEPPU Go to Jigoku (The Hells) this morning, the supreme hot springs in Japan. Here you can explore geysers, mud ponds, and pools dyed strange colors by minerals. Visit the delightful town of Yufuin, renowned for its traditional handicrafts, and its Folk Art Museum. View indigo dying, glass blowing, and paper making, or take a hot soak, Japanese style. Reboard the Spirit of Oceanus and sail for Nagasaki through the Shimonoseki Strait. BLD

DAY 8 NAGASAKI In this second city destroyed by an A-bomb in World War II, tour the Atomic Bomb Museum. Travel on to Glover Garden, an open air museum exhibiting Victorian mansions and gardens built by an enterprising Scotsman who helped overthrow the shogunate. BLD

DAY 9 KVONGJU, SOUTH KOREA Step into the world of Korea's Shilla dynasty in the ruins of Kyongju. A thousand years ago, this open-air museum was their capital. Today, the ruins and burial mounds of this UNESCO Site bring to life memories of a 900-year rule that lasted from the time of Julius Caesar to Charlemagne. BLD

DAY 10 HAGI Japan's revolution began here in Jokamachi's old samurai residential quarter. Visit Tokoji Temple, a Buddhist temple that is the burial site of half of the Mori daimyo (feudal lords). The graves are surrounded by hundreds of stone lanterns. Make an optional visit to a pottery studio for pastel-glazed pottery once reserved for the samurai. BLD

DAY 11 IZUMO/ MATSUE Anchoroff Izumo for a visit to Izumo Taisha, Japan's oldest and largest Shinto shrine. Also visit Matsue to tour the famous wooden Matsue Castle and the Hearn Museum. BLD

DAY 12 KANAZAWA Spend a full day exploring Kanazawa, including its traditional silk industry and participate in an ancient tea ceremony. Feast your eyes on breathtaking Kenrokuen Garden, known as one of the three most beautiful in Japan. Adjoining Kenrokuen,visit Seisonkaku Villa, built by the 13th lord Maeda for his mother. BLD

DAY 13 NIIGATA/ TOKYO Disembark and transfer to the train station for your 2- hour bullet train ride to Tokyo. Enjoy a tour of the Imperial Palace Plaza and Asakusa Kannon-do Temple en route to the historic Imperial Hotel. BL

DAY 14 TOKYO Transfer to Narita Airport for your flight back home. B

Complete details of Tokyo sightseeing options will be sent to you upon booking.

Request: Cruise 60a or Cruise 61a Booking/Availability.