Coastal Odyssey Cruise 3d + Extraordinary Wilderness Lodges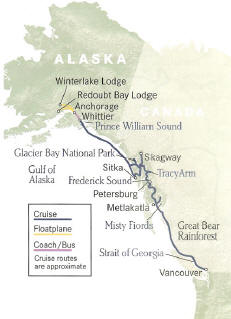 14 Days, 13 Nights

Vancouver B.C. to Fairbanks or reverse

Tour 4

d

or 4

dd

- see Coastal Odyssey

cruise 3A, but in reverse

.

DAYS 1-11CRUISE FROM VANCOUVER TO ANCHORAGE For complete cruise details, see Coastal Odyssey cruise 3a. All meals are included onboard the Spirit of Oceanus.

DAY 12 FLOATPLANE TO YOUR LODGE Travel by floatplane to Redoubt Bay Lodge or Winterlake Lodge. Redoubt Bay Lodge overlooks Big River Lakes, with one of the densest bear populations in Alaska. As the only accommodations in a critical habitat area, this cozy lodge and three cabins offer rustic comfort in a remote and spectacular setting. Winterlake Lodge is located on 15 acres overlooking Winter Lake, and is the Finger Lake checkpoint along the Iditarod Trail. The comfortable main lodge and five cabins have views of Trimble Glacier and Wolverine Mountain, with many species of birds, wildflowers and berries. BD

DAY 13 REDOUBT BAY OR WINTERLAKE LODGE Enjoy sport fishing for salmon, go canoeing or kayaking, hiking, or animal tracking, and experience the natural beauty of the area. See bears up-close as they come down to the lake to fish. BLD

DAY 14 TRAVEL BY FLOATPLANE TO ANCHORAGE Transfer to the Anchorage Airport for your flight home. B

Request: Northbound 3d, 4d or Southbound 3dd, 4dd Availability.

These tours require a $350 per person deposit in addition to the standard deposit.