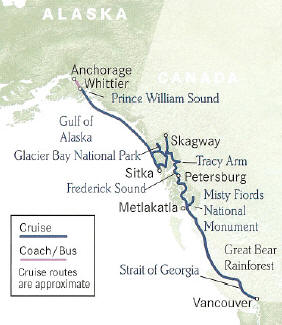 COASTAL ODYSSEY NORTHBOUND CRUISE 3a

OR
COASTAL ODYSSEY SOUTHBOUND CRUISE 4a

Cruise 4a itinerary travels in the reverse.
13 DAYS, 12 NIGHTS VANCOUVER, B.C. TO ANCHORAGE OR REVERSE
DAY 1 SET SAIL FROM VANCOUVER, BRITISH COLUMBIA Transfer to the Spirit of Oceanus at Vancouver's inner harbor. Sail under the Lion's Gate Bridge as your panoramic Coastal Odyssey cruise begins. D
DAYS 2-3 CRUISING BRITISH COLUMBIA Over the next two days you will experience sheltered waterways lined by the evergreen wilderness of the Great Bear Rainforest that temptingly lead you north toward Alaska. These nutrient-rich waters are home to whales and dolphins. Stop for a visit at a remote port of call along the lush British Columbia Inside Passage to explore life in this beautiful and quiet region. BLD
DAY 4 MISTY FIORDS NATIONAL MONUMENT AND METLAKATLA The dramatic granite cliffs of Misty Fiords National Monument welcome you to Alaska's grandeur as you explore spectacular Behm Canal, a glacially-carved fjord where six inlets come together. National Forest Service Kayak Rangers join you onboard to offer information about this area. The Tsimshian community of Metlakatla shares a dance performance at their tribal long house. BLD
DAY 5 PETERSBURG Winding Wrangell Narrows leads to the Norwegian-founded, bustling fishing village of Petersburg, where you will be entertained by local folk dancers. BLD
DAY 6 TRACY ARM FJORD AND FREDERICK SOUND You will be cruising far up Tracy Arm toward the twin Sawyer Glaciers, where steep granite cliffs line waterways choked with . icebergs. There will be time to search the waters for humpback whales, seals, sea lions, and porpoise in Frederick Sound. You may spend time anchored in a secluded cove. BLD
DAY 7 SKAGWAY Relive the Gold Rush in the picture-perfect setting of Skagway, the starting place for many early gold seekers. This is the home of the White Pass & Yukon Route Railway. BLD
DAY 8 GLACIER BAY NATIONAL PARK AND PRESERVE Realize the beauty of majestic Glacier Bay National Park, as we cruise looking for wildlife and glacier activity in remote bays. A Park Service Ranger and a Native Cultural Interpreter join us onboard to help spot wildlife and offer fascinating information on this evolving area. BLD
DAY 9 SITKA Breathtaking waterways lead to attractive Sitka. This one-time capital of Russian America has a wealth of historical art and artifacts. Stroll the totem-lined forest trail at Sitka National Historic Park. BLD
DAY 10 EXPLORING THE ALASKAN COAST View the rugged Alaskan Coast, watching for wildlife that calls this remote landscape and seascape home. Conditions permitting, we may explore this area in small excursion craft. BLD
DAY 11 PRINCE WILLAM SOUND Keep your binoculars and camera handy as we explore the secluded wildlife-rich islands and iceberg-filled fjords in rarely visited Prince William Sound. Our years of exploration here enable us to show you the very best of the hidden wildlife wonders. BLD
DAY 12 WHITTIER TO ANCHORAGE You will be transferred to the Sheraton Hotel in beautiful Anchorage to spend a relaxing evening nestled between the Chugach Mountains and the shoreline of Cook Inlet. BD
DAY 13 ANCHORAGE Prior to your transfer to the airport, enjoy a morning Anchorage tour which includes a visit to the Museum of History and Fine Art.