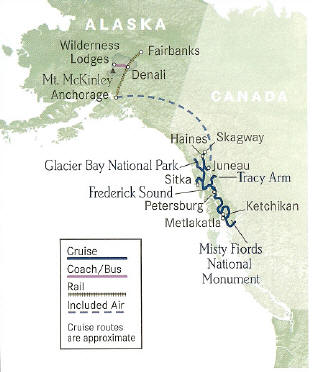 Alaska's Inside Passage Cruise 8d plus Extraordinary Wilderness Lodges 16 Days, 15 Nights (Southbound Only) Fairbanks to Ketchikan

These tours require a $350 per person deposit in addition to the standard deposit.

DAY 1 ARRIVE IN FAIRBANKS Transfer from the airport to Pike's Waterfront Lodge for a wine and cheese reception.

DAY 2 RIVERBOAT CRUISE Our excursion on the Chena and Tanana Rivers mirrors the original river route of access to the Fairbanks Gold Rush a century ago. Stay overnight at Pike's Waterfront Lodge. An optional activity is a flight above the Arctic Circle only 125 miles away. BLD

DAY 3 FAIRBANKS TO DENALI NATIONAL PARK AND PRESERVE VIA RAIL Board a deluxe domed railcar to Denali, with breakfast included onboard. Enjoy sweeping views on all sides as you approach the Alaska Range. Overnight at North Face Lodge or Camp Denali, both located in the heart of the Park. BD

DAYS 4-5 DENALI EXPLORATION Experience the Denali that most people never will - three full nights within the expansive park boundary. All meals are included at the lodge as you dine family-style in relaxed comfort with your companions. BLD

DAY 6 DENALI TO ANCHORAGE VIA RAIL Enjoy your final panoramas of Denali as you transfer to the rail station. Board a deluxe domed railcar to travel south to Anchorage and overnight at the Sheraton Hotel. BD

DAY 7 ANCHORAGE SIGHTSEEING You'll begin with a City Tour highlights of downtown Anchorage followed by a docent tour of the Anchorage Museum of History and Art. Enjoy lunch in the museum. This afternoon, visit the Alaska Native Heritage Center to dance to the beat of a Native drum presentation or stroll around a small lake to visit life-size replicated village sites including The Aleut, Alutiiq and Yup'ikj Cup'ik native cultures. Enjoy dinner at the Sheraton or take advantage of the Anchorage Dine around program at one of six great restaurants downtown. BLD

DAY 8 FLY TO JUNEAU Transfer to the airport to fly to Juneau. You will transfer on arrival to the Goldbelt Hotel near downtown Juneau's waterfront. B

DAY 9 EMBARK ON YOUR CRUISE Board your ship to begin your Alaska's Inside Passage cruise to Ketchikan. D

DAYS 10-16 CRUISE TO KETCHIKAN For complete cruise details see Days 3-9 of Alaska's Inside Passage cruise 7A, but in reverse. All meals are included onboard.

These tours require a $350 per person deposit in addition to the standard deposit.

Request: 8d YCN, 8d YCC, 8d SNN or 8d SNC (All Southbound Only) Availability.