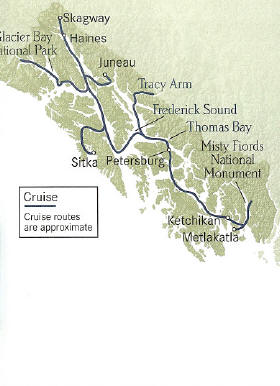 Alaska's Inside Passage Cruise 7a Northbound or Cruise 8a Southbound

9 DAYS, 8 NIGHTS KETCHIKAN TO JUNEAU OR REVERSE Cruise 8A itinerary travels in the reverse.
DAY 1 ARRIVE IN KETCHIKAN AND SET SAIL Transfer to your ship to begin your cruising adventure. D An add-on hotel night package in Ketchikan before your cruise is strongly advised.
DAY 2 MISTY FJORDS NATIONAL MONUMENT AND Metlakatla Visit magical Misty Fiords National Monument boasting steep cliffs, narrow waterways, and awe-inspiring stillness. Make a port call at Metlakatla on Annette Island, Alaska's sole Tsimshian community. BLD
DAY 3 PETERSBURG Enjoy a warm welcome at the fishing village of Petersburg, a true cannery town. The Leikarring Dancers perform for you in the Sons of Norway Hall. Explore wilderness waterways around Petersburg, like the mysterious Thomas Bay. BLD
DAY 4 FREDERICK SOUND AND TRACY ARM FJORD Humpback whales abound in Frederick Sound. Cruise under Tracy Arm's sheer 1,500-foot vertical cliffs toward the twin Sawyer Glaciers. BLD
DAY 5 SITKA Only small ships can negotiate Peril Strait and Sergius Narrows, the "inside" route to Sitka on Baranof Island. A walk through Sitka's National Historic Park reveals towering totems keeping watch over the temperate rainforest. You may see playful otters, Sitka blacktail deer, and bald eagles. BLD
DAY 6 GLACIER BAY NATIONAL PARK AND PRESERVE CRUISING First established as a National Monument by presidential proclamation in 1925, Glacier Bay has since enjoyed the honored and highly protected status of National Park, Biosphere Reserve and World Heritage Site. Glide through this wonderland approaching lip close to the "rivers of ice." A National Park Service Ranger and a Cultural Interpreter will be onboard helping you spot the abundant wildlife such as mountain goats, harbor seals, and brown and black bears. BLD
DAY 7 SKAGWAY AND HAINES Relive the Gold Rush in the picture-perfect setting of Skagway, the starting place for many early gold seekers. Just down mountain-lined Lynn Canal visit Haines. famed for attracting artists and for its picturesque beauty. BLD
DAY 8 ARRIVE IN JUNEAU Transfer to the Goldbelt Hotel. Explore the capital city of the great state of Alaska. A vast array of optional activities includes flightseeing, hiking, and glacier viewing. B
DAY 9 TRANSFER to the airport for your flight home.