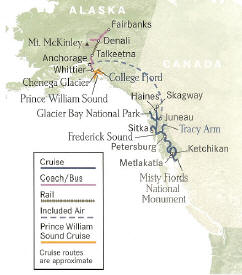 Alaska's Inside Passage Cruise7c plus Denali National Park and Preserve and Prince William Sound Cruise 16 Days, 15 Nights Ketchikan to Fairbanks or Reverse 8c Fairbanks to Ketchikan 18 Days, 17 Nights

DAYS 1-7 CRUISE KETCHIKAN TO JUNEAU See Days 1-7 of Alaska's Inside Passage cruise 7A. All meals are included onboard.
DAY 8 ARRIVE IN JUNEAU, FLY TO ANCHORAGE Overnight at the Sheraton Hotel. B
DAY 9 TRANSFER TO WHITTIER, SET SAIL Travel by motor-coach along scenic Turnagain Arm. Pass through tunnels under the Chugach Mountains to the port of Whittier. Board the Spirit of Columbia for Prince William Sound exploration. BD
DAY 10 COLLEGE FJORD Come face-to-face with active glaciers calving into the tidal waters below. Watch for harbor seals on the ice. Explore up-close through Esther Passage. BLD
DAY 11 CHENEGA GLACIER/KNIGHT ISLAND Far from civilization, explore wilderness waterways and forested islands. Watch for sea otters, orcas, and seabirds along the shoreline of Knight Island where large ships can't navigate this maritime maze. BLD
DAY 12 RETURN TO ANCHORAGE VIA MOTOR-COACH Disembark in Whittier and transfer to Anchorage. Sightseeing includes the Anchorage Museum of History &Art. BD
DAY 13 ANCHORAGE TO DENALI NATIONAL PARK VIA MOTOR-COACH AND RAIL Your Exploration Leader accompanies your travel by motor-coach and domed railcar to Denali National Park to overnight in a Denali hotel. BD
DAY 14 DENALI NATIONAL PARK AND PRESERVE EXPLORATION A driver guide from the Park helps you look for moose, grizzly bears, caribou, Dali's sheep, and more. B
DAY 15 DENALI NATIONAL PARK TO FAIRBANKS VIA MOTOR-COACH Step back in time with a riverboat excursion, lunch, and then a farewell dinner at Pike's Waterfront Lodge. BLD
DAY 16 TRANSFER TO THE AIRPORT FOR YOUR TRIP HOME.
Tour BC- see Alaska's Inside Passage cruise 7a, but in reverse, and adding two days. Contact us for details on this option.