GUAM TO FIJI... OR REVERSE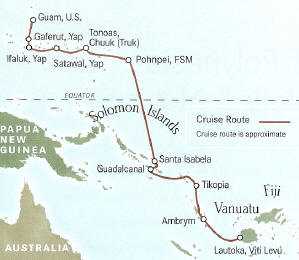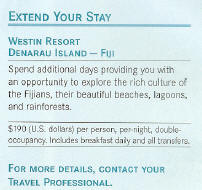 18 OR 19 DAYS / 18 NIGHTS
DAYS 1&2 DEPART FOR GUAM, U.S. Lose a day en route. Upon arrival, transfer to the Guam Hyatt Regency where you'll stay overnight.
DAY 3 GUAM This afternoon you'll enjoy a tour of Guam including Plaza de Espana and Isla Center for the Arts. Board the Spirit of Oceanus. BD
DAY 4 GAFERUT ATOLL, YAP Birds and turtles have discovered Gaferut's charms, but few others visit this migratory resting place. Bird watchers keep a lookout for noddies, terns, and boobies. Just a few steps offshore great snorkeling awaits. BLD
DAY 5 IFALUK, YAP The inhabitants of Ifaluk are the most traditional of all the Eastern Caroline Islands, and the inner lagoon is shallow and breathtakingly beautiful. Visit with villagers, and see them perform dances. The reefs here are alive with colorful fish and deep-sea fans that will delight snorkelers. BLD
DAY 6 SATAWAL ISLAND, YAP Some of the best traditional navigators in the Pacific live here, still navigating by the stars and ocean swells. Visit their village and go snorkeling on the reef. BLD
DAY 7 TONOAS ISLAND, CHUUK Appreciate the World War II history of this mangrove-fringed island in a beautiful lagoon. Have time for snorkeling or swimming. BLD
DAY 8 AT SEA Celebrate Christmas on the December 18 departure. BLD
DAY 9 POHNPEI ISLAND, FSM The snorkeling is magnificent here, and birdwatchers will want to keep their eyes peeled for the endemic Pohnpei fantail and Pohnpei flycatcher. But the highlight of the island is the ruins of Nan Madol, said to be over 700 years old. BLD
DAYS 10 &11 AT SEA Cross the Equator en route. As we cruise between islands, our Exploration Leader and other experts will brief us on the natural history and cultures we are about to visit. BLD
DAY 12 SANTA ISABELA ISLAND, SOLOMON ISLANDS Anchor off Kia village, once home to headhunters. Other enduring traditions here include making tapa cloth from the bark of the paper-mulberry tree and tinting it a pale blue using a dye made of crushed orchid leaves. BLD
DAY 13 GUADALCANAL, SOLOMON ISLANDS Guadalcanal was the focus of a 6-month battle that was a turning point in the Pacific War. The fierce fighting that took place here littered the area with relics, both on land and sea. BLD
DAY 14 AT SEA Ring in the New Year on the December 18 departure. BLD
DAY 15 TIKOPIA, SOLOMON ISLANDS The Solomon Islands have long been known for their fierce headhunting tribes, which has led to the islands' isolation until only recently. Tikopia, in particular, is home to a remote society that has changed little over the years. It is still ruled by four clans, each with a chief who may only be approached by crawling. BLD
DAY 16 AMBRYM ISLAND, VANUATU Visit the local village, where you'll meet with the villagers, and have the opportunity to purchase handicrafts. Ambrym is the home of Mt. Marum and Mt. Benbow volcanoes and holds the greatest reputation for sorcery in Vanuatu. The island is also known for traditional crafts such as tam-tams (vertical, slit drums) and tree fern sculptures. BLD
DAY 17 AT SEA BLD
DAY 18 NADI/LAUTOKA, FIJI Disembark and enjoy a sightseeing tour of Nadi and the surrounding area before checking into individual day rooms at the Westin Resort Denarau. Transfer to the airport for your overnight flight home. B
Request Cruise 54 or Cruise 55 (Special for Holidays) Availability.