Your Cruise + POST-TRIP TO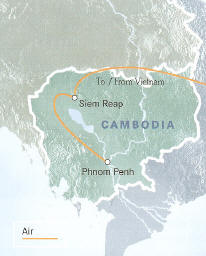 Angkor Wat and Cambodia

17 DAYS / 16 NIGHTS
Don't miss this opportunity to expand your Vietnam journey with this five-day Post-cruise land-tour to the extraordinary Angkor Wat temple complex and Phnom Penh.
DAYS 1-12 VIETNAM CRUISE See Itinerary.
DAY 13 VIETNAM / SIEM REAP An included flight takes you to Siem Reap, your base for exploring Angkor and its other wonders. Explore the royal walled city of Angkor Thom. At its heart is the Bayon, a temple with giant faces carved into dozens of stone towers. Overnight at the Sofitel Royal Angkor Hotel. BLD
DAY 14 TEMPLES AT ANGKOR Ancient capital of the Khmer Empire, Angkor's soaring towers, elaborately carved murals, colonnades and courtyards are a miracle of imagination and engineering. Visit the spiritual center of Ta Prohm, untouched by archaeologists and merging with the surrounding jungle. Also explore Prah Khan, three temples built on a steep hilltop. The temples afford a dramatic perspective on Cambodian culture, the lush green surroundings and the Tonie Sap Lake. BL
DAY 14 TONLE SAP LAKE Board covered boats to explore Tonie Sap Lake, a UNESCO Biosphere Reserve created anew each year when the Mekong Rivers wells with monsoon rains. Discover a floating fishing village of homes, shops, deepwater rice paddies and enough freshwater fish to feed Cambodia. Later in the day, examine the sculptures and textiles at Artisans D'Angkor, where Cambodian children are trained in traditional Cambodian arts. BLD
DAY 15 SIEM REAP/ PHNOM PENH In the morning, discover Banteay Srei, the Citadel of Women, a series of reddish, delicately carved buildings; then board an included flight to Phnom Penh, Cambodia's capital and most modern city. This afternoon enjoy the world's finest collection of Khmer art and artifacts at the National Museum and experience the city's Buddhist and French colonial charm as you travel its wide boulevards and visit its most beautiful temples and pagodas. Overnight at the Hotel Le Royal. BL
DAY 16 PHNOM PENH/ HOME Transfer to the airport for your return flight home. B
Cambodia Highlights:
Explore the massive temple complex at Angkor Wat, one of the world's greatest architectural achievements.

Discover the floating fishing village of homes, shops and deep-water rice paddies at Tonie Sap Lake, a UNESCO Biosphere Reserve.

Visit Angkor's more remote temples of Banteay Srei, the beautifully carved, pink-stone Citadel of Women.