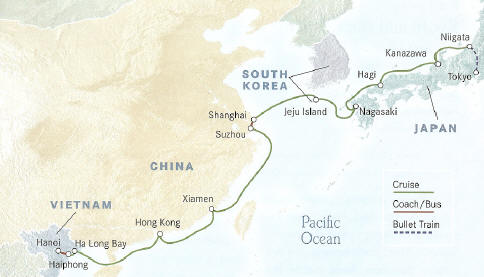 Treasures of the Orient Cruise 90a

17 DAYS / 16 NIGHTS
DAY 1 ARRIVE IN JAPAN Transfer from Tokyo's Narita Airport to downtown Tokyo where you will spend the night at the historic Imperial Hotel.
DAY 2 TOKYO/ NIIGATA A morning tour of Tokyo introduces you to Japan. Visit the Imperial Palace Plaza and Asakusa Kannon-do Temple. This afternoon transfer to the train station for your 2-hour bullet train ride to Niigata, where you board the Spirit of Oceanus. BLD
DAY 3 KANAZAWA Spend a full day exploring Kanazawa, including its traditional silk industry and participate in an ancient tea ceremony. Feast your eyes on breathtaking Kenrokuen Garden, known as one of the three most beautiful in Japan. Adjoining Kenrokuen, visit Seisonkaku Villa, built by the 13th lord Maeda for his mother. A short distance away, you'll see Gyokusenen Garden. BLD
DAY 4 HAGI Japan's revolution began here in Jokamachi's old samurai residential quarter. Shoin-jinja Shrine is a monument to one of the last of the samurai, killed by the shogun for attempting to ensure Japan's survival by opening up to the West. Visit Tokoji Temple, a Buddhist temple that is the burial site of half of the Mori daimyo (feudal lords). The graves are surrounded by hundreds of stone lanterns. BLD
DAY 5 NAGASAKI Destroyed by the A-bomb in World War II, this city's Peace Park offers spectacular views, a reminder of war's devastation and a message of hope and rebirth. Experience a unique period of Japanese19th-century history in Glover Garden with its distinctive, European-style houses. BLD
DAY 6 JEJU ISLAND, SOUTH KOREA "Island of the Gods" Jeju, is home to South Korea's highest peak. Explore Sankumbrui Crater, visit cultural treasures of Jeju Folk Village Museum with its more than 400 thatched-roof houses still inhabited by villagers. Visit the Biosphere Reserve at Seogwipo to explore shell fossils, and learn the legends of Oedolgae Rock, a stone pillar standing alone off the seashore. BLD
DAY 7 SHANGHAI, CHINA Strategically located at the mouth of the Yangtze, the city is now China's premier financial and cultural center and one of the world's busiest ports. The new, architecturally adventurous Shanghai Museum exhibits an extraordinary collection of Chinese art through the ages, while beautiful, expansive Yuyuan Garden offers timeless tranquility. Other not-to-be-missed Shanghai experiences: the French Concession District and the Children's Palace. BLD
DAY 8 SHANGHAI/ SUZHOU Delve deeper into Shanghai exploring independently, or discover the classical gardens of Suzhou. BLD
DAYS 9 & 10 AT SEA Relax aboard the Spirit of Oceanus, preparing for the delights ahead, as we sail down China's eastern coast. BLD
DAY 11 XIAMEN Natural splendor and manmade wonders merge in this historic harbor city. The extraordinary Buddhist Nanputao Temple sits below the massive Five Old Gentlemen Peaks, while the grand Heaven King's Hall combines architectural grandeur with the more ephemeral art of fine cuisine. Also visit Gulangyu Island, where European and Japanese residents made their homes in beautiful colonial mansions. BLD
DAY 12 HONG KONG Ride to the top of Victoria Peak for a bird's-eye view of the city. A visit to Stanley Market provides a European flavored experience, while the Man Mo Temples offer a more traditional view of cultural dedication to the gods of literature and war. In the afternoon, explore with an expert on an exclusive cooking tour, or visit antique shops and galleries with a specialist in Asian art. BLD
DAY 13 AT SEA Avoiding difficult inland roadways, relax and see the natural wonders of the coast of China. BLD
DAY 14 HA LONG BAY, VIETNAM Known as "the dragon's back," this UNESCO World Heritage Site in the Gulf of Tonkin includes some 1,600 mostly-uninhabited islands and islets. Legend has it that Ha Long Bay was formed when a dragon plunged to earth, its tail carving the seabed. BLD
DAY 15 HAIPHONG / HANOI After disembarking in Haiphong, explore Hanoi, Vietnam's capital. Overnight at the deluxe Sofitel Metropole Hotel. BL
DAY 16 HANOI Explore Ho Chi Minh's Mausoleum and the Vietnam Museum of Ethnology. In the evening, celebrate your journey at a special farewell dinner at the imposing Co Loa Citadel, an architectural wonder and Vietnam's first capital. BD
DAY 17 HANOI/HOME Following breakfast, transfer to the Hanoi Airport to connect with flights home. B
Request Cruise 90a Availability.