You have chosen

to learn more about

Itinerary for The Caribbean

, Yachtsman's Caribbean Cruise

.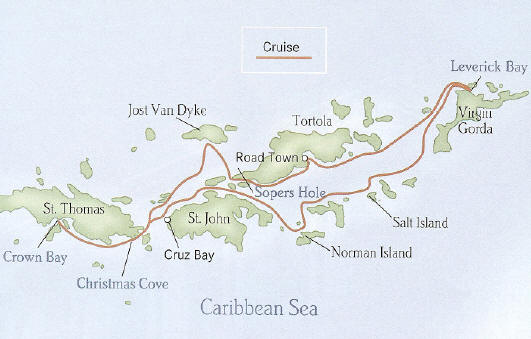 Yachtsman's Caribbean Cruise 86a

ROUND TRIP FROM ST. THOMAS

8

DAYS/ 7 NIGHTS

DAY

1 CROWN BAY, ST. THOMAS, UNITED STATES VIRGIN ISLANDS Delight in spectacular mountain vistas and the beautiful harbor as you prepare to set sail on the Spirit of Nantucket. D

DAY 2

JOST VAN DYKE B. V. I. / SOPERS HOLE, TORTOLA, BRITISH VIRGIN ISLANDS Enjoy a relaxing morning at sea, cruising through the Sir Francis Drake Channel as you head for beautiful White Bay, located in a secluded setting on the island of Jost Van Dyke. Named after a Dutch pirate, this sparsely populated island provides some of the finest deserted beaches and swimming and snorkeling in the Virgin Islands. After enjoying a lovely afternoon here, make the short run to Sopers Hole at the western end of Tortola, where the ship anchors for the night. BLD

DAY 3

ROAD TOWN, TORTOLA, BRITISH VIRGIN ISLANDS The Spirit of Nantucket ties up in Road Town, Tortola ("Turtle Dove"), just before breakfast. With its 21 square miles, Tortola is the largest of the British Virgin Islands, offering lush rainforest terrain, friendly inhabitants, and pristine white-sand beaches. Explore the island's hidden wonders or enjoy an excursion to 92-acre Sage Mountain National Park for a hike through the rainforest accompanied by a local guide and the ship's naturalist. Join an optional snorkeling expedition to nearby Peter Island or wander the quaint lanes of Road Town before sailing. BLD

DAY 4

LEVERICK BAY, VIRGIN GORDA, BRITISH VIRGIN ISLANDS Depart early this morning to make the crossing to mountainous Virgin Gorda and the Leverick Bay Marina. A beach bus to the Baths at Spring Bay takes you past the highest point of Virgin Gorda, which reveals a sweeping vista of small islands. Weather permitting, snorkelers may join an optional excursion to The Dogs, a series of angular islands northwest of Virgin Gorda. The Reef Environmental Education Foundation recently cited Coral Gardens and the Chimney - snorkeling and diving sites on Great Dog- the "healthiest reefs surveyed in years," This evening, enjoy the entertainment at Leverick Bay Resort, located at the marina. BLD

DAY 5

SALT ISLAND/ NORMAN ISLAND, BRITISH VIRGIN ISLANDS This morning, the Spirit of Nantucket anchors off Salt Island. Weather permitting, enjoy snorkeling here and explore the wonderful coral habitat that has grown up around the shipwrecked RMS Rhone, attracting scuba divers, fish, and other sea creatures to the area. In the early afternoon, sail to Norman Island - reputed to be the setting for Robert Louis Stevenson's Treasure Island. You'll anchor at The Caves, an outstanding snorkeling area. The water is perfect here, with colorful corals, sponges, and algae dotting the seafloor and rock walls of the caves. Join an excursion to The Indians for snorkeling along the impressive coral reef. BLD DAY 6 CRUZ BAY, ST. JOHN, UNITED STATES VIRGIN ISLANDS This morning, take a leisure cruise off St. John, and sail to the island's small port of Cruz Bay. More than two-thirds of this lush, green island comprises Virgin Islands National Park. Join an optional excursion along St. John's curvy, mountainous roads, with special stops for photo opportunities and a visit to the Annaberg Sugar Plantation. Swimmers may want to visit Trunk Bay, where the white-sand beach provides easy access to snorkelers. Cruz Bay offers shopping opportunities at Mongoose Junction - a short walk from our landing site - with a collection of quaint shops, boutiques, and restaurants. BLD DAY 7 CHRISTMAS COVE, UNITED STATES VIRGIN ISLANDS / ST. THOMAS Sail this morning for Christmas Cove, where you may snorkel off the north shore of Great St. James Island. Following lunch, return to St. Thomas in the U.S. Virgin Islands. You may choose to join an optional excursion to Coral World, a beautifully landscaped marine park that offers a wonderful view of a natural coral reef and other impressive exhibits. BLD DAY 8 CROWN BAY, ST. THOMAS Disembark the Spirit of Nantucket after breakfast. Before transferring to the airport for your return flight home, you may join an optional tour through the historic landmarks of St. Thomas, visiting the St. Peter Greathouse Estate & Gardens, which offers lovely scenery nestled high in the peaks of the island. B

Request: Yachtsman's Caribbean Cruise 86a .
CRUISE 86a YACHTSMAN'S CARIBBEAN
SPIRIT OF NANTUCKET
CABIN CATEGORY
SATURDAY DEPARTURE
A
AA
AAA
DELUXE
December 23, 30, 2006 - Holiday Cruise
$2699
2949
3449
4049
January 6, 13, 20, 27, 2007
$2699
2949
3449
4049
February 3, 10, 17, 24, 2007
$2699
2949
3449
4049
December 22, 29, 2007 - Holiday Cruise
$2799
3049
3549
4149
The cost of your cruise includes service charges for land-based personnel and $349 per person which covers taxes/port charges/fees and onboard services. Onboard gratuities are neither required nor expected. Prices are per person, double-occupancy, U. S. dollars. Single/Triple rates available upon request where applicable. Air fare extra