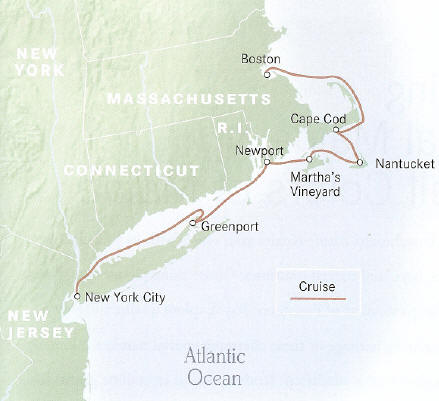 Cruise

Cape Cod & the Islands of New England

Cruise 76a New York City to Boston or Cruise 77a Boston to New York City

8 DAYS

/ 7 NIGHTS

DAY 1 NEW YORK CITY, NEW YORK Board the Spirit of Nantucket to depart New York City in the evening. D

DAY 2 GREEN PORT, LONG ISLAND From first sight of its offshore lighthouse to its maritime and railroad museum and perfectly furnished 19th century house, you're in a world of living history. Many former sea captains retired to Greenport and it's easy to imagine them sharing the sidewalks as you stroll past their Victorian homes or enjoy the waterfront vistas from Harbor Walk. Nearby is the Hamptons', the legendary resort community on Eastern Long Island. Discover the allure of this beautiful spot, where lovely beaches and magnificent houses are plentiful and celebrity spotting is a popular sport. BLD

DAY 3 NEWPORT, RHODE ISLAND With coastlines on the west, south and east, beautiful Newport is home to more colonial inns than any city in America, Newport is known for its nautical history, hospitality - and its fabulous mansions. Many 19th century industrialists built their houses here, and their architectural grace is matched by the dramatic landscapes of Cliff Walk, the beautiful beaches and harbor. Stroll down Bellevue Avenue for a look at the palatial estates that reflect Newport's Gilded Age. BLD

DAY 4 MARTHA'S VINEVARD, MASSACHUSETTS Six small, diverse towns dot this lovely island seven miles off the coast of Massachusetts. Explore the island's towns, and savor fresh seafood, pristine sweeping beaches, stunning scenery with beautiful cliffs and impressive dunes, rolling green farmland and wild grapevines not much changed since the island was named by early English explorer Bartholomew Gosnold in 1602. Tour Edgartown with time to investigate the galleries, boutiques, and the whaling museum. BLD

DAY 5 NANTUCKET, MASSACHUSETTS Captain Gosnold noted Nantucket as he sailed past on his way to Jamestown, but records hold that Norsemen first set foot on the island in the 11th century. Home base for hundreds of whaling vessels and refuge for thousands of Quakers, the island saw construction of its first summer homes in the 1800s. Its beauty became backdrop for a new influx of inhabitants, all leaving their marks on this fascinating island. Visit the Whaling Museum for a closer look at the hard-working side of Nantucket, and the old Quaker Meeting House for a taste of the simple, strong aesthetic that governed their lives and get a sense of why the Spirit of Nantucket was so named. BLD

DAY 6 CAPE COD, MASSACHUSETTS Discover why Cape Cod is best known for its beaches with their impressive dunes. Explore the pristine landscapes along the 40-mile stretch of National Seashores and Dunes on Outer Cape Cod. Delight in the fresh salt air as you search for the numerous birds living around here including osprey, eastern towhees, pine warblers and American bitterns. See Hyannis port, best known as the location of the Kennedy family summer homes. Hyannis Harbor provides the access to the islands of Martha's Vineyard and Nantucket. In the evening, transit Cape Cod Canal. Completed in 1914, the canal effectively transformed Cape Cod into an island. BLD

DAY 7 BOSTON, MASSACHUSETTS From its historic harbor to Faneuil Hall Marketplace, the Freedom Trail, Old North Church, Old lronsides and Charlestown Navy Yard, Boston is home to many of America's most famous historical sites. One of the oldest, most culturally significant cities in the U.S., Boston is also the site of prestigious schools and universities, and charming neighborhoods with wonderful galleries, shops and restaurants. Enjoy a city tour that encompasses all the city's highlights, and even leaves time for independent exploration. BLD

DAY 8 DEPART FOR HOME In Boston, disembark the Spirit of Nantucket for home. B

Request: Cruise 76a or Cruise 77a Booking/Availability.