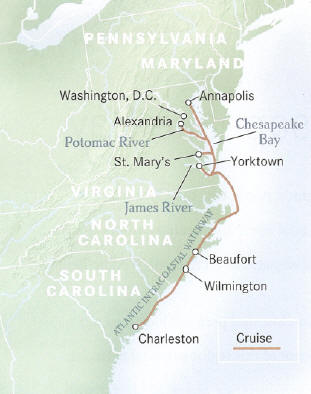 Cradle of Colonial America

Cruise 74a Charleston to Alexandria or Cruise 75a Alexandria to Charleston

10 DAYS/ 9 NIGHTS

DAY 1 CHARLESTON, SOUTH CAROLINA One

of the four largest cities on the Eastern Seaboard,

Charleston contains a wealth of 18th and 19th

century mansions, as well as reminders of its part

in American history as the site where the Civil

War began at Fort Sumter. Board the Spirit of

Nantucket and spend the night moored in its

downtown harbor. D DAY 2 CHARLESTON A guided stroll through

Charleston's historic streets introduces you to

the charms of the city. Choose to join an optional

excursion that takes you to the botanical

treasures of Middleton Place Plantation, or

an optional historic tour featuring a stop at the

Joseph Manigault House, built around 1803 and

one of the finest Adamesque mansions in the

country, and a drive through The Citadel, the

military college of South Carolina. BLD DAY 3 CRUISING THE ATLANTIC

INTRA-COASTAL WATERWAY Enjoy the typical

Low Country landscape of marshes filled with

aquatic plants, many species of birds and a host

of other wildlife. BLD DAY 4 WILMINGTON, NORTH CAROLINA

This morning, make a turn up the Cape Fear

River, sailing to the historic city of Wilmington.

Having played parts in the American Revolution

and serving as the main port of the Confederacy,

this city is filled with history. Explore its historic

district on a walking tour of the city and its

picturesque riverfront. Discover Fort Fisher with

its battle remnants, and Bellamy Mansion, a

superb example of antebellum architecture built

i

n 1859 by free and enslaved black artisans. BLD DAY 5 MOREHEAD CITY (FOR BEAUFORT,

NORTH CAROLINA) Follow in the wake of

notorious pirates - from Blackbeard to Anne

Bonny - who terrorized the North Carolina coast

in the 17th and 18th centuries as we cruise to

Beaufort. In the morning, tour the town's center

with its buildings beautifully restored to their

colonial perfection. At the North Carolina

Maritime Museum take a look at the area's

fascinating seafaring history, including an exhibit

about Blackbeard, whose flagship was discovered

near Beaufort Inlet. Spend the afternoon cruising

the Outer Banks past stretches of scenic

waterway. BLD DAY 6 YORKTOWN, VIRGINIA Celebrate 300

years of American history in the historic triangle

of Yorktown, Williamsburg and Jamestown. In

Yorktown, experience village streets, 18th century

houses and revolutionary battlefields that look

much as they did in colonial days. Then choose to

explore either Colonial Williamsburg, the

country's earliest political and cultural center,

where more than 500 buildings have been

restored to their 18th century glory, or Jamestown,

where a colonial fort, a Pohowtan Indian village

and majestic sailing ships have been faithfully

re-created. BLD DAY 7 ST. MARY'S CITY, MARYLAND

Historic St. Mary's City is a museum of history

and archaeology located in the beautiful tidewater

of Chesapeake Bay. Explore a perfectly re-created

plantation, inns and public buildings and one of

the earliest English sailing ships. BLD DAY 8 ANNAPOLIS, MARYLAND

After cruising Chesapeake Bay, dock in

Annapolis, first peacetime capital of the

United States and an integral port for

maritime trade. Travel through the

bustling dock area to the Maryland State

House, where the Continental Congress

ratified the Treaty of Paris that officially

ended the American Revolution. Explore

other government buildings and formal

gardens, and visit the U.S. Naval

Academy. BLD DAY 9 ALEXANDRIA, VIRGINIA (FOR

HARPERS FERRY/ MANASSAS) The

Spirit of Nantucket docks in Alexandria

right next to Old Town. Those who wish,

may join an optional excursion that visits

two famous wartime sites. First, stop in

Harpers Ferry, at the confluence of the

Potomac and Shenandoah rivers where

Virginia, Maryland, and West Virginia

meet. After lunch in Leesburg, continue

to Manassas (Bull Run). This once coveted

railroad hub, setting for the war's

first major battle in 1861, is also where

General Thomas Jackson earned the

moniker "Stonewall." BLD

DAY10 ALEXANDRIA After breakfast, disembark the Spirit of Nantucket and transfer to the airport for your return flight home. B

Request: Cruise 72a or Cruise 73a Booking/Availability.
CRUISE 72

a

COLONIAL AMERICA - CHARLESTON TO ALEXANDRIA
SPIRIT OF NANTUCKET
CABIN CATEGORY
DEPARTURE
A
AA
AAA
DELUXE
May 6, 24, 2007
$3499
3849
4449
5149
CRUISE 73

a

COLONIAL AMERICA- ALEXANDRIA TO CHARLESTON
SPIRIT OF NANTUCKET
CABIN CATEGORY
DEPARTURE
A
AA
AAA
DELUXE
May 15, 2007
$3499
3849
4449
5149
November3
$3499
3849
4449
5149
The cost of your cruise includes service charges for land-based personnel and $349 per person which covers taxes/port charges/fees and onboard services, Onboard gratuities are neither required nor expected. Prices are per person, double-occupancy, U.S. dollars. Single/Triple rates available upon request where applicable. Airfare extra.