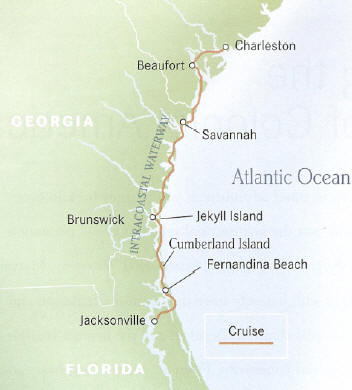 Antebellum South along the Intra-coastal Waterway Cruise 70a Jacksonville to Charleston or 71a Charleston to Jacksonville

8 DAYS/ 7 NIGHTS

DAY 1 JACKSONVILLE, FLORIDA Board the

Spirit of Nantucket in Jacksonville, a strategic port

during the Civil War. Dinner is served onboard. D DAY 2 FERNANDINA BEACH, FLORIDA (FOR

CUMBERLAND ISLAND, GEORGIA) Fernandina

Beach is a quaint village of late-Victorian

architecture that dates from the mid-1500s.

Join an all-day excursion to Cumberland Island,

Georgia's largest and southernmost barrier island.

Explore the crumbling remnants of Dungeness,

the mansion built by Thomas Carnegie in 1884,

and view the beautiful plants, birds and wildlife,

including wild horses, living there. BLD DAY 3 BRUNSWICK (FOR JEKYLL ISLAND),

GEORGIA Enjoy an excursion to Jekyll island,

one of Georgia's famous Golden Isles. Winter

home of America's rich and famous for 56 years,

Jekyll Island hosted the Vanderbilts, Rockefellers,

and Morgans, who all closed their Fifth Avenue

mansions and retreated to the island's warmth

and serenity. View these spectacular millionaire

"cottages" - ornate mansions that have been

exquisitely preserved - providing an intriguing

view into the era of The Great Gatsby. Your tour

concludes with luncheon in the courtyard of the

lavish, elegant Crane Cottage. BLD DAY 4 CRUISING THE INTRA-COASTAL

WATERWAY / SAVANNAH, GEORGIA Cruise

through the isolated Low Country today along the

winding Intra-coastal Waterway. Lined with marsh

grasses, wide and ocean-like one minute, narrow

with plantation homes just visible through moss draped

oaks the next, the Waterway supports a

spectacular array of wildlife. Many species of

waterfowl and wading birds inhabit this inland

passage. Porpoises sport in the wake of passing

boats, and shrimp, oysters and crabs thrive, along

with striped bass and mullet. On shore, deer,

bears, bobcats and foxes roam the thickets and

cypress swamps. Arrive in Savannah early this

evening, and join an optional tour of the city "by

night," featuring history, ghost tales and a

glimpse into lovely, after-dark Savannah. BLD DAY 5 SAVANNAH You'll have all day to explore

this historic city and its Old South charm, where

cobblestone streets are lined with classic

wrought-iron fences and 150-year-old,mossdraped

oaks pre-dating the Civil War. Explore one

of our nation's largest National Historic Landmark

districts, revealing more than 270 years of

history, elegantly displayed in exquisite ironwork,

splendid mansions and picturesque cottages.

Glimpse life as it was lived in old Savannah with a

visit to a fine house museum. BLD DAY 6 BEAUFORT, SOUTH CAROLINA /

CRUISING THE INTRA-COASTAL WATERWAY

The second-oldest town in South Carolina looks

to the sea from Port Royal Island, one of 64

barrier islands that make up Beaufort County.

Enjoy a carriage ride through the city's historic

district or choose to visit Hunting Island State

Park. At the Park, explore the historic lighthouse,

stroll along the boardwalk to discover the salt

marsh, and, along the way, be on the look-out for

dolphins, deer, wading birds and other

wildlife. Sail the Intra-coastal Waterway

past sea islands, small harbors, and coves,

catching sight of wildlife that few visitors

see. Osprey, egrets and ibis feed in the

swampy marshes and saw-grass flats,

sunning on the muddy banks. BLD DAY 7 CHARLESTON, SOUTH

CAROLINA The lovely city of Charleston

contains a wealth of 18th and 19th

century mansions, but it is probably best

known in American history as the site

where the Civil War began at Fort Sumter.

Charleston was one of the four largest

cities on the Eastern Seaboard. A guided

stroll through Charleston's historic streets

introduces you to the charms of the city.

You may then choose to join either an

optional excursion that takes you to the

botanical treasures of Middleton Place

Plantation, or an optional historic tour

that features a stop at the Joseph

Manigault House, built around 1803

and one of the finest Adamesque

mansions in the country, and a drive

through The Citadel, the military college

of South Carolina. BLD DAY 8 CHARLESTON Disembark the

Spirit of Nantucket after breakfast and

transfer to the airport for your return

flight home. B

Request: Cruise 70a or Cruise 71a Booking/Availability.