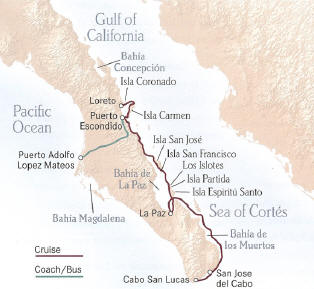 Cruise 34a Sea of Cortes Whales &Wildlife Round Trip From Cabo San Lucas

8 DAYS

\7 NIGHTS

DAY 1 ARRIVE IN CABO SAN LUCAS Transfer from Los Cabo's Airport to Cruise West's Hospitality Room at Cabo's inner harbor. Board your ship to begin your Sea of Cortes cruise. D

DAY 2 ISLA ESPIRITU SANTO This 23,383-acre island near La Pazis centered in one of the most biologically diverse marine areas in the world - and is a major environmental success story. Several plants and animals are found nowhere else in the world, including the blacktail jack rabbit and antelope squirrel. Drop anchor at Espiritu Santo's Bahia Bonanza for a day ashore. Takea guided walk among the tangle of exotic cacti, or swim, snorkel, and kayak the crystal clear sea here that supports 900 species of fish. No need to bring snorkel gear or wetsuits as this gear will be provided for you. BLD

DAY 3 WHALE WATCHING This whole day is spent pursuing up-close viewing of marine life. The Sea of Cortes is home to huge schools of common and bottle-nosed dolphins, as well as humpback, minke, fin, and blue whales. From mid-January to mid-March, hundreds of gray whales congregate in the shallow lagoons of Baja's Pacific shore. When our local contacts tell us the whales are present, we'll cross the peninsula by motor-coach to Puerto Adolfo Lopez Mateos. There board an outboard-equipped panga to observe the grays, who have migrated some 6,000 miles from Alaska's Bering Sea to mate, give birth, and rear their young. When whales are not present there due to varied migration patterns, we will look for whales in the Sea of Cortes. BLD

DAY 4 ISLAND EXPLORATION Guided by the weather and tides, visit one of the beautiful and special islands of the Sea of Cortes. Exploration will possibly include nature hikes, kayaking, and snorkeling. BLD

DAY 5 LORETO Founded in 1697, Loreto's Nuestra Senora de Loreto Mission was the original "mother" church from which all the other California missions were founded, eventually leading as far north as Sonoma, California. A museum adjacent to the mission displays artifacts and paintings from Baja's colonial era. Stroll the streets and plazas of this picturesque seaside village, capped by a reception with musical entertainment at the mission. BLD

DAY 6 Los ISLOTES& ISLA PARTIDA Los Islotes is a steep seamount punctured by sea caves. Blue-footed boobies reside on the cliffs, and a large colony of California sea lions hauls out on the rocks below. Weather permitting, swim and snorkel as the female sea lions and their curious young pups float about you in the sea. Continue to Isla Partida nearby, to hike the island's rugged canyons, kayak up-close to rock-walled headlands, or just relax on the beach. In the sheltered cove of Ensenada Grande, the silky, sandy bottom shelves out very gradually for hundreds of feet, as gentle waves lap onto the mangrove-backed beach. BLD

DAY 7 LA PAZ Today, your ship ties up

at the central waterfront of Baja California

Sur's capital and largest city, which was

founded in the 1530s. Explore the shops,

gelaterfas, and the miles-long waterfront

malecon or promenade. A host of options

will be available and you will have the

opportunity to enjoy an exclusive fiesta,

complete with Mexican music, dancers,

and pinatas. Later, depart La Paz to sail

over night to Cabo San Lucas. BLD DAY 8 DISEMBARK IN CABO SAN LUCAS

Cruise past the spectacular rock formation,

Los Arcos, at the very tip of the Baja

Peninsula. After breakfast, disembark and

transfer to the Los Cabos Airport. B

Request: Sea of Cortes Whales and Wildlife Cruise 34a.
CRUISE 34a SEA OF CORTE
SPIRIT OF YORKTOWN
CABIN CATEGORY
SATURDAY DEPARTURE
A
AA
AAA
DELUXE
December 23, 2006 - Holiday Cruise
$2699
2949
3449
4049
December 30, 2006 - Holiday Cruise
$2499
2749
3249
3849
January 6, 2007
$2299
2549
3049
3649
January 13, 20, 2007
$2499
2749
3249
3849
January 27,2007
$2699
2949
3449
4049
February 3, 10, 17, 24, 2007
$2699
2949
3449
4049
March 3, 2007
$2499
2749
3249
3849
December 22, 2007 - Holiday Cruise
$2799
3049
3549
4149
December 29, 2007- Holiday Cruise
$2599
2849
3349
3949
The cost of your cruise includes $194 per person which covers taxes/port charges/fees and on board services. On board gratuities are neither required nor expected. Prices are per person, double-occupancy, U.S. dollars. Single/Triple rates available upon request where applicable. Air fare extra.

EXTEND YOUR STAY

These hotel packages are available as add-ons to your cruise. Transfers are included between the airport, hotel, and ship. Package price also includes tax.

HOTEL FINISTERRA

Finisterra means "land's end," an apt name for its enviable position on the rocky peninsula ending in Los Arcos. The hotel's ridge-top location overlooks both Cabo San Lucas' inner harbor and sparkling Pacific beaches. The hotel is within walking distance of Cabo's shops and restaurants.

HOTEL FINISTERRA CABO SAN LUCAS

Price$160 per person, per night, share Extra night $140per person, share $20 tax included, per person, based on double-occupancy.

HOTEL POSADA REAL

The Hotel Posada Real in San Jose del Cabo enjoys a spectacular location right on the Sea of Cortes. Exotic cactus gardens surround the buildings of contemporary Mexican style architecture. Every room features a private balcony.

POSADA REAL SAN JOSE DEL CABO

Price $90 per person, per night, share Extra night $70 per person, share $11 tax included, per person, based on double-occupancy Enhance your journey... with the spectacular Copper Canyon land-tour package post-trip.