In Harriman's Wake

Cruise 1b + Denali National Park Tour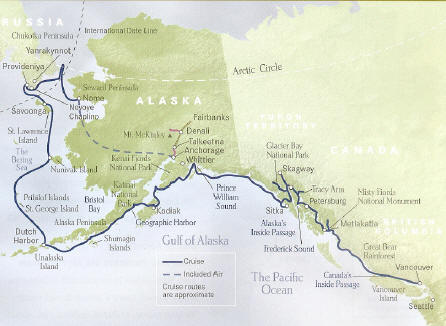 29 Days, 28 Nights
Vancouver B.C. to Anchorage or Reverse Cruise 2b Tour 2b - see In Harriman's Wake Cruise 1a, but in reverse.
DAYS 1-24 CRUISE FROM VANCOUVER TO ANCHORAGE For complete cruise details, see In Harriman's Wake cruise 1a. All meals are included onboard the Spirit of Oceanus.
DAY 25 ANCHORAGE TO DENALI NATIONAL PARK VIA MOTOR-COACH AND RAIL Board domed rail car to travel through scenic wilderness areas paralleling the Susitna River and the Talkeetna Mountains. Take in the sweeping views as you cross Hurricane Gulch and Broad Pass. Stay overnight at a Denali Hotel. BD
DAY 26 DENALI NATIONAL PARK EXPLORATION Denali National Park's wild landscape is the natural habitat of bears, Dall sheep, moose, and a variety of other animals. Catch the elusive views of Mt. McKinley, the highest peak in North America. Optional adventures include flightseeing, whitewater rafting, float trips, and more. B
DAY 27 DENALI NATIONAL PARK TO FAIRBANKS VIA RAIL Enjoy free time in Denali National Park in the morning, then travel by rail car to Fairbanks, Alaska's second largest city. BD
DAY 28 FAIRBANKS SIGHTSEEING AND RIVERBOAT Sightseeing in Fairbanks features a delightful riverboat excursion on the Chena and Tanana Rivers and a farewell dinner at Pike's Waterfront Lodge on the beautiful Chena River. BLD
DAY 29 TRANSFER TO FAIRBANKS AIRPORT Take your unforgettable memories home with you.