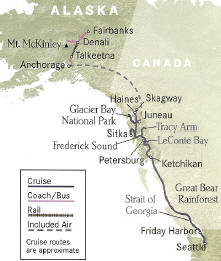 Gold Rush Inside Passage Cruise + Denali National Park

15 Days, 14 Nights Seattle to Fairbanks or Reverse Tour 11B - see complete Gold Rush Inside Passage cruise 10a details, but in reverse.
DAYS 1-10 CRUISE SEATTLE TO JUNEAU For complete cruise details, see Days 1-10 of Gold Rush Inside Passage cruise 10a. All meals are included onboard.
DAY 11ARRIVE IN JUNEAU, FLY TO ANCHORAGE Transfer to the airport for your included flight to Anchorage. On arrival transfer to the Sheraton Hotel to continue your Gold Rush Adventure. BD
DAY 12 ANCHORAGE TO DENALI NATIONAL PARK AND PRESERVE VIA RAIL* Meet your Cruise West Exploration Leader who will accompany you by deluxe domed railcar to Denali National Park. Cross breathtaking Hurricane Gulch and Broad Pass as you ascend into the Alaska Range. Overnight at a hotel in Denali. BD
* RAIL CLOSURE MAY REQUIRE TRAVEL VIA MOTOR-COACH
DAY 13 DENALI EXPLORATION A guide from the Park helps you search for moose, grizzly bears, caribou, Dall sheep, and more. B
DAY 14 DENALI NATIONAL PARK AND PRESERVE TO FAIRBANKS Travel to Fairbanks by motor-coach, for sightseeing that includes a riverboat cruise on an authentic sternwheeler. See the renowned Trans-Alaska Pipeline, and visit the University of Alaska Fairbanks Museum of the North, with locally-produced gold and Ice Age artifacts. A farewell dinner is included, and overnight at Pike's Waterfront Lodge. BLD
DAY 15 TRANSFER TO THE FAIRBANKS AIRPORT FOR YOUR FLIGHT HOME.