Cruise + Redoubt Bay Lodge (5d)

or Winterlake Lodge (5dd)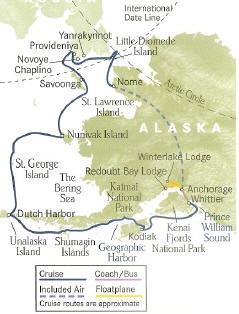 17 Days 16 Nights Round trip from Anchorage - Tours 6D and 6DD - see complete Voyage to the Bering Sea details.
DAYS 1-13 CRUISE ANCHORAGE TO NOME For complete cruise details, see the Voyage to the Bering Sea 5A.
DAY 14 ARRIVE IN NOME, FLY TO ANCHORAGE Enjoy evening dinner and overnight at the Sheraton Hotel. BLD
DAY 15 REDOUBT BAY LODGE OR WINTERLAKE LODGE Travel50 minutes southwest of Anchorage by floatplane to your lodge located at the entrance to Lake Clark Pass. Enjoy the spectacular views of Cook Inlet and the Kenai Peninsula on your way. BD
DAY 16 REDOUBT BAY LODGE OR WINTERLAKE LODGE Discover a true sense of wilderness at this off-the-beaten-path location enjoyed by only a lucky few. With one of the densest bear populations in the state, guests may have the opportunity to see bears come to the water to fish. Activities include canoeing or kayaking, animal tracking, hiking or relaxing at the lodge. BLD
DAY 17 TRAVEL BY FLOATPLANE TO ANCHORAGE Land on Lake Hood and transfer to the Anchorage International Airport for your flight home. B
These tours require a $350 per person deposit in addition to the standard deposit.
Request: Northbound 5d or 5dd Availability. Request: Southbound 6d or 6 6dd Availability.