Choose

to learn more about

Itinerary for

I

n Harriman's Wake

cruise

, with land

tour

option.
In Harriman's Wake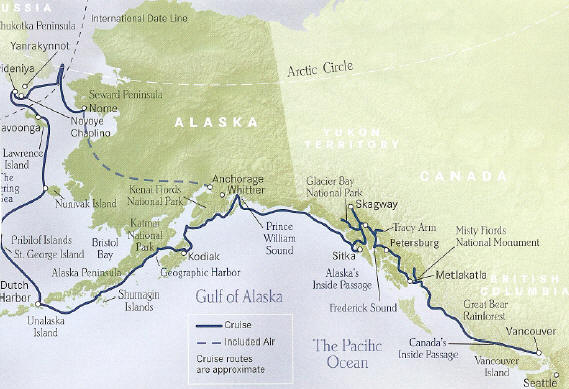 Cruise 1a

25 DAYS, 24 NIGHTS

VANCOUVER, B.C. TO ANCHORAGE OR REVERSE Cruise 2a itinerary travels in the reverse.

DAY 1 SET

SAIL FROM

VANCOUVER

Transfer

to

the Spirit of Oceanus

to begin your cruise. D DAYS 2-3 CRUISING BRITISH COLUMBIA Over

the next two days you will experience sheltered

waterways lined by the Great Bear Rainforest, that

lead you north toward Alaska. These nutrient-rich

waters are home to whales and dolphins.

Stop for a visit at a remote port of call along the

l

lush British Columbia Inside Passage to explore

life in this beautiful and quiet region. BLD

DAY 4 MISTY FIORDS NATIONAL MONUMENT

AND METLAKATLA The dramatic granite cliffs of

Misty Fiords welcome you to Alaska as you explore

Behm Canal, a glacially-carved fjord. National

Forest Service Kayak Rangers will join you onboard

to share the natural beauty of the area.

The Tsimshian community of Metlakatla greets you

with a dance performance at their tribal long

house. Harriman stopped here to visit a

missionary settlement. BLD DAY 5 PETERSBURG The winding Wrangell

Narrows lead to the Norwegian-founded, fishing

village of Petersburg, where you will be

entertained by local folk dancers. BLD DAY 6 TRACY ARM FJORD AND FREDERICK

SOUND Cruise far up Tracy Arm toward the twin

Sawyer Glaciers, where steep granite cliffs line

waterways choked with blue icebergs. Search for

humpback whales, seals, sea lions, and porpoise

in Frederick Sound. BLD DAY 7 SKAGWAY Relive the Gold Rush in the

picture-perfect setting of Skagway, the starting

place for many early gold seekers. BLD DAY 8 GLACIER BAY NATIONAL PARK AND

PRESERVE Today's majestic excursion into

Glacier Bay National Park will look for wildlife and

glacier activity in remote bays. A Park Service

Ranger and a Native Cultural Interpreter are

onboard to help spot wildlife and offer insight.

Harriman's Expedition was here for five days. BLD DAY 9 SITKA This one-time capital of Russian

America is filled with a wealth of historical art and

artifacts. Harriman's party saw this same Russian

influence here. Stroll the totem-lined forest trail at

Sitka National Historic Park. BLD DAY 10 EXPLORING THE ALASKAN COAST

View the rugged Alaskan Coast, watching for

wildlife that calls this remote landscape and

seascape home. Conditions permitting, we may

explore this area in small excursion craft. BLD DAY 11 PRINCE WILLIAM SOUND Keep your

binoculars and camera handy as we explore the

secluded wildlife-rich islands and iceberg-filled

fjords in rarely visited Prince William Sound. BLD DAY 12 WHITTIER Located at the head of

Passage Canal, spend the day in Whittier.

Optional activities may include kayaking or

traveling to Anchorage. BLD DAY 13 WILDERNESS CRUISING Take in the

scenery along the rugged coastline of Kenai Fjords

National Park. Look for orcas, otters, puffins,

bears, moose, and mountain goats. BLD DAY 14 KODIAK Situated at the crossroads of

the world's most productive commercial fishing

grounds, your day includes sightseeing at the

Baranov Museum, the Alutiiq Museum and the

Fish Tech Center. Harriman's party spent July 4,

1899, here. BLD DAY 15 KATMAI NATIONAL PARK Watch for

brown bears browsing the shorelines as you explore

the rarely-visited Geographic Harbor, an important

stop for migrating birds like the Arctic tern. BLD DAY 16 SHUMAGIN ISLANDS Step ashore from

inflatable excursion craft to a totally uninhabited

island to examine sea life in the tide pools and

admire the 20-million-year-old petrified wood on

the beach. Explore Haystack Rocks, home to a

variety of seabirds, seals, and sea lions. BLD DAY 17 DUTCH HARBOR Here on Unalaska

Island in the Aleutians, sightseeing includes the

Museum of the Aleutians, World War II Memorial

Park, and bald eagles. BLD DAY 18 PRIBILOF

ISLANDS On St. George,

local guides take you to premium viewing sites

to see fur seals and seabirds. Keep

an eye out

for puffins, auklets, murres, and herds of

reindeer. BLD DAY 19 YUKON DELTA NATIONAL WILDLIFE

REFUGE Today

you will visit remote Nunivak

island.

You may spot wild musk oxen and

caribou in this off-the-beaten-path locale. BLD DAYS

20-22 EXPLORING

THE BERING

SEA

Clear customs into Russia

and take a tour of

Provideniya.

Search the rugged shoreline of

Russia's

Chukotka Peninsula.

In three days of

flexible exploration, you may

also visit:
LITTLE DIOMEDE Separated from Russia's Big Diomede by less than two miles and the International Date Line.

NOVOYE CHAPLINO This Russian Yupik village claims ethnic kinship to Eskimos in Alaska. SAVOONGA Alaska's Eskimos travel around their treeless domain by all-terrain vehicles.

YANRAKYNNOT Chukchi subsistence hunters venture from this village to hunt walrus, whales, and other sea creatures. A fascinating archaeological site, Whale Bone Alley, runs along the shore for many miles. BLD
DAY 23 THE

ARCTIC

CIRCLE Today

cruise

far north, perhaps far enough to cross the

Arctic Circle. Possible whale sightings include

grays, orcas, minkes, humpbacks, and

bowheads. BLD DAY 24 NOME

TO

ANCHORAGE See

the

vitality and spirit of Nome with a brief

sightseeing tour before leaving

on your

included flight to Anchorage. Upon arrival in

Anchorage, you will be transferred to the

Sheraton Hotel to spend a relaxing evening

nestled between the Chugach Mountains and

the shoreline of Cook Inlet. BLD DAY 25 ANCHORAGE

Transfer to the airport

for your flight home, or to continue your

Alaska adventure.
The

cost of

your

cruise

includes

$1485 per person which covers taxes/port charges/fees, and onboard services. Onboard gratuities are neither required nor expected. Prices are per person, double-occupancy, U.S. dollars. Single/Triple rates available upon request where applicable. Airfare extra.